So, guess who was underdressed to an auction preview last night? 😂 Sometimes I wonder how my brain works. 😂
Anyway so out of the three things I planned on doing yesterday, I only got to do two. Whew. I was able to give the superfoods drink to my cousin and then I got my essay contest consolation prize. Hehe.
It's a good thing I didn't get there early. At least I saw the Leon Gallery in full swing.



The Leon Gallery Auction Preview Cocktail Event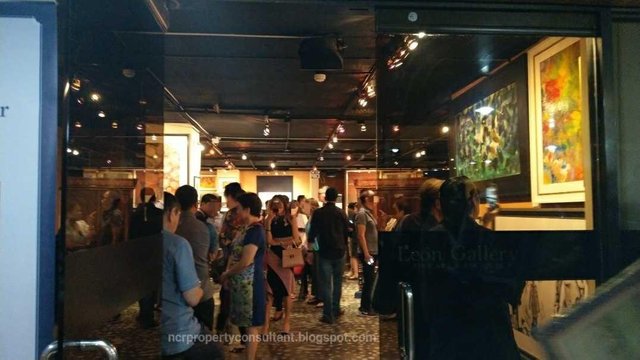 What can I say but I was completely caught offguard when I got there. 😱 The winner announcement did say awarding would be at the event but I assumed that would be at the auction on June 22nd. 😅 No I didn't check on the other posts by the gallery to see the event announcement. 😅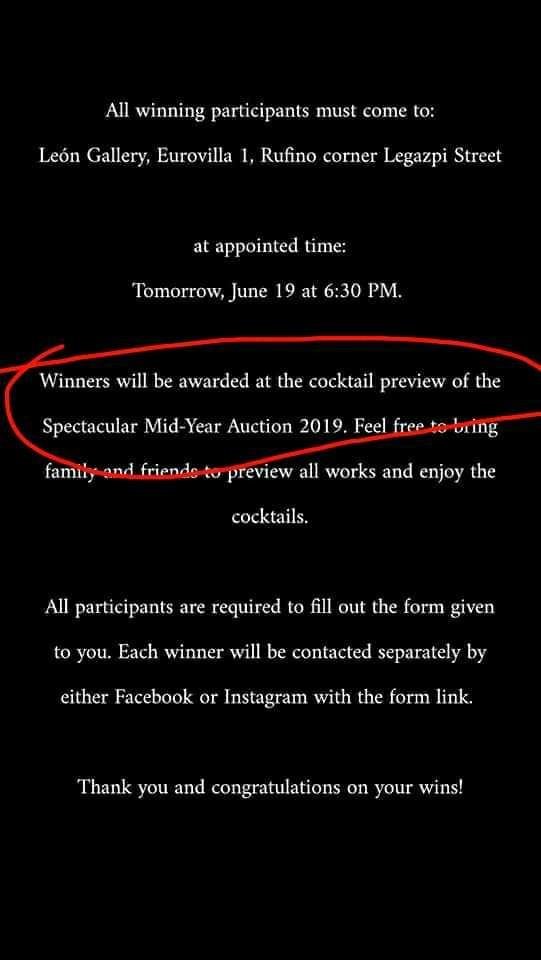 Just goes to show my brain is focused on something else and I have no idea how auctions/art galleries work. 😂 I admit I really don't know about anything involving auctions other than the "going once, going twice, SOLD!!!" 🤣
This is probably why I was constantly being told not to assume during my stint as a financial advisor. I should not assume based on any given facts or else. 🙃 Well, look who's still assuming up to now. 🤡
Anyway it's too late to regret anything. Not that I regret going unprepared and underdressed, as long as I got the prize money I'm all good. 😂 Plus, I tried my best not to let it get to me, being all by my lonesome and kinda shocked by just being there. If I had realized, I would have asked my cousin to go in with me instead of getting out of her car on her way home because I was running late. Traffic. Lol. I was thinking I would just go in and out but surprise!!! It's completely not the case. #smh


---
The first time I went in an art auction house was in 2017. I even took a video of some of the items but it was not a cocktail night at all. It wasn't jampacked as well. There was a bit of welcome speech and a charity related talk.
Didn't take a video this time because I was trying my best to not get distracted by all the noise and not think of my casual getup. Lol.
---


The good news is, there were plenty of food and drinks for everyone. Once I got there, I was told to eat first before I got the prize. (Fine with me. Otherwise I would have been gone the instant I had what I was there for. 😁) No food or booze pics though. 😂 Here's some pictures of the art up for auction instead.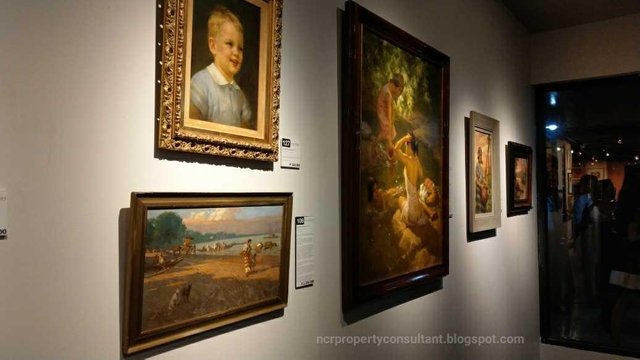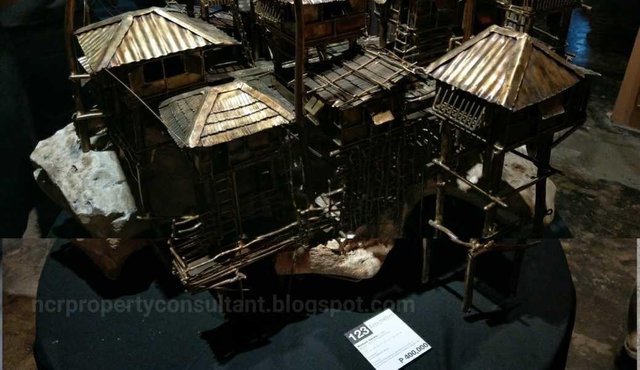 I think this is a brass sculpture, didn't read the details. 😂 (It's a composite pic.)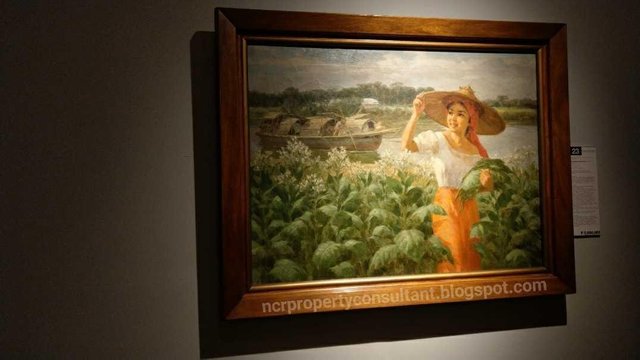 A Fernando Amorsolo painting. (He is one of the best and renowned past Filipino painters ever.)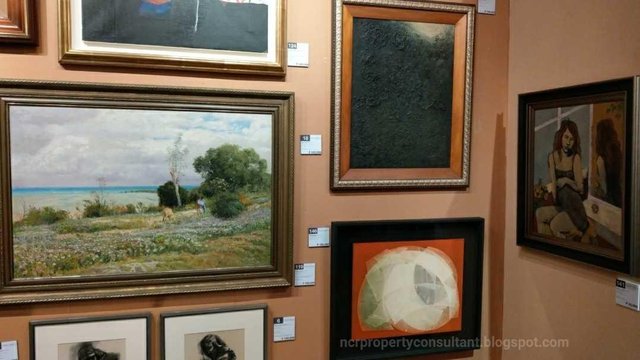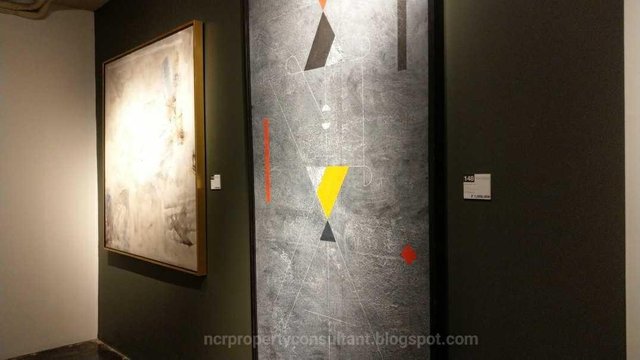 This one is pretty simple. The picture doesn't give the painting justice because of the lighting…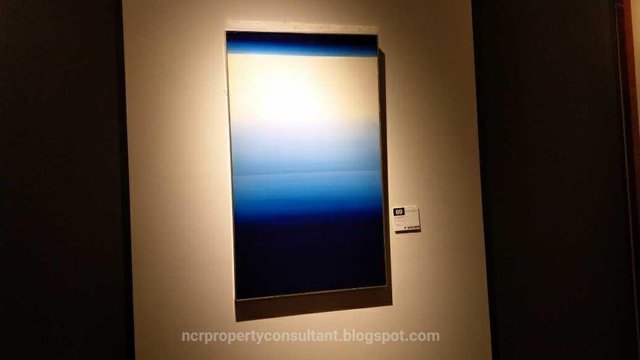 Imagine, you can sell a gradient painting of white and blues for P360k! Mindblown Should I start painting again or what? Oh wait, I'd probably have to wait 'til I'm dead before the painting value will go up. Unless I'm Jim Lee. 😂🤔😅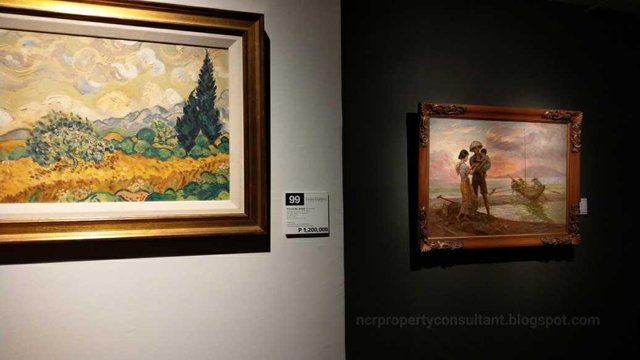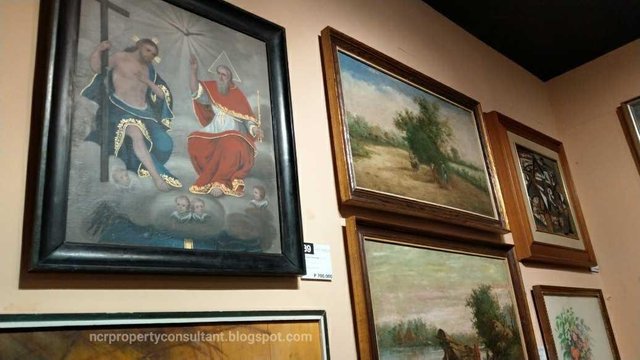 I love the painting on the upper left. It has shiny gold lines. Haha.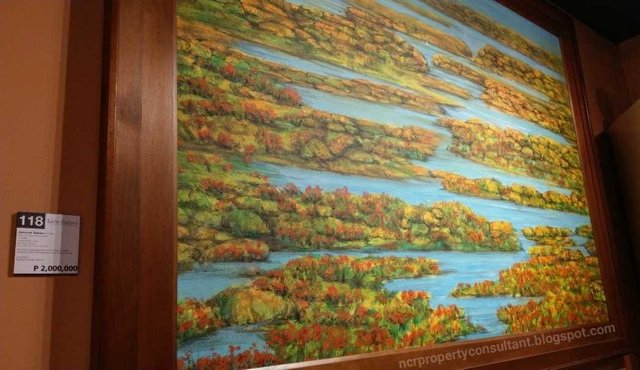 And this one is a huge painting. Yes I can say it's worth the starting auction price based on the detail and effort it took to paint it. Whew.
There are more paintings not pictured and also other sculptures plus some furnitures up for auction, like a sala set and a… big cabinet? Uhm, it's called something else but you should get the picture. 😆
Aside from all the art pieces, going around you'd say the same thing: there were plenty of people. That's a good thing for the gallery, right? Not so for introverts like me. 😜
Food was okay and enough. The alcoholic drinks weren't to my taste so I felt very out of my element. I should start going out more often again. 😂😂😂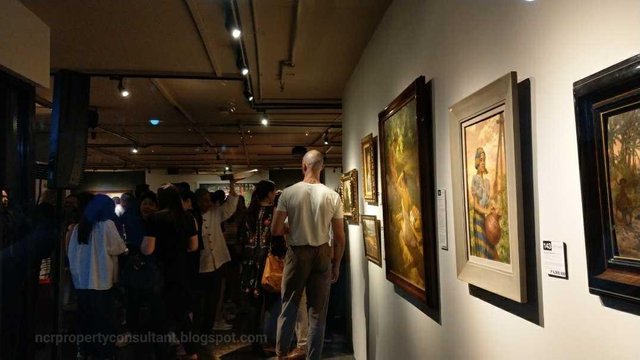 I did take my time taking pics and savoring the somewhat uncomfortable experience. My eyes took in everything while I drank all there is to drink and ate what was offered.
Guess which is my most favorite art piece of all? Tan tana naaaan!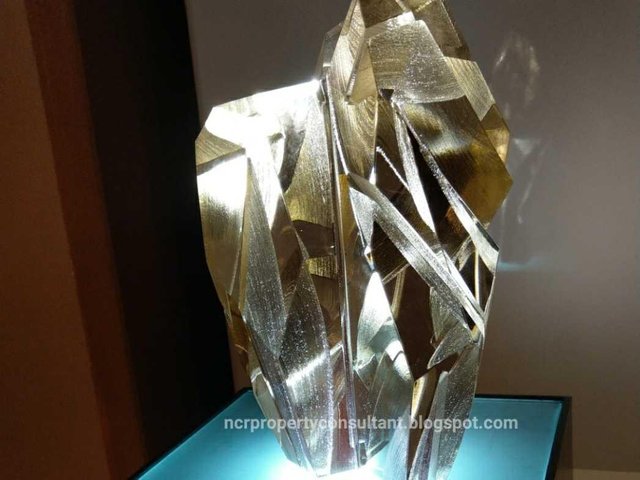 Doesn't this glass sculpture look amazing especially with that lighting? 😍
Suffice it to say, it was a night of art and plenty of food/drinks. There were so many people! Not at all as cozy as I'd thought it would be. It was like swarmingly busy and noisy that the DJs music couldn't drown the human noise. Must be all the booze people were drinking. 😂
Too bad I didn't see any celebrity around. But of course I was able to take a selfie with the grand prize essay contest winner. Oh yeah!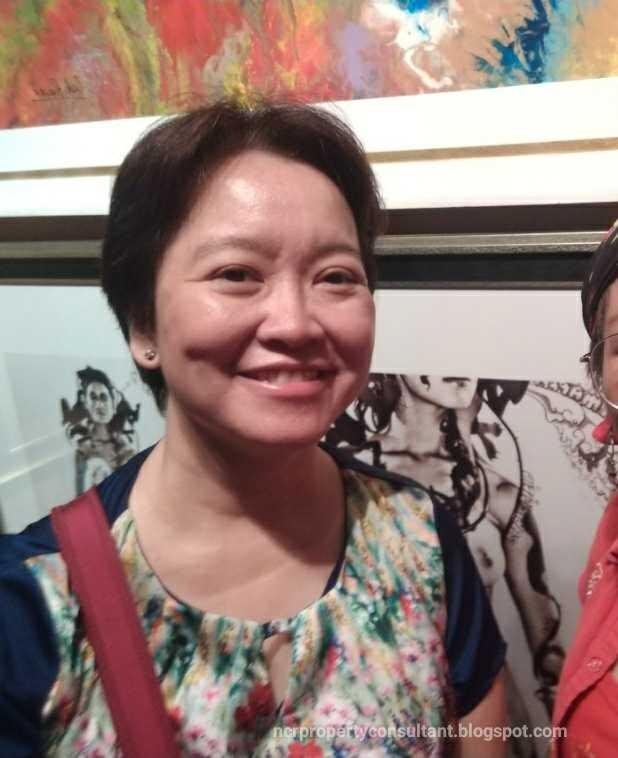 The Painting That Made Me Write a Winning Essay
If you haven't read my previous related posts, the essay contest was about the Camote Diggers by Carlos "Botong" Francisco. Read about it and my essay contest entry in Filipino HERE.
So anyway, here's "The Last Botong". Look at that, P16M starting auction price! Whoa!!!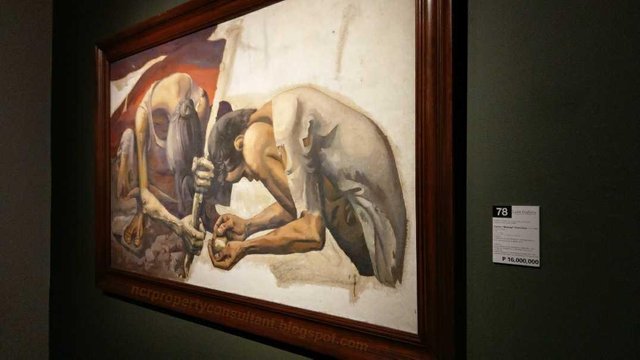 That's almost $310k based on today's currency exchange. Almost the equivalent of a spacious and semi-furnished 1 bedroom wellness and luxury pre-selling unit in Westin Manila residences. Cool eh?
Can also be almost equivalent to a 2 bedroom unit in The Arton by Rockwell in Katipunan, an upscale and exclusive pre-selling property.
Darn it though, I was pretty out of my element last night that I was being the artist and art-lover me instead of a real estate agent/business person. I should've been handing out my business cards and making friends left and right but no I was being almost anti-social and shy for being underdressed. Ah life. 😁 So much for being the artsy me. 😂
My only purpose in going there was to get my consolation prize anyway. Anything else was a bonus. 😄❤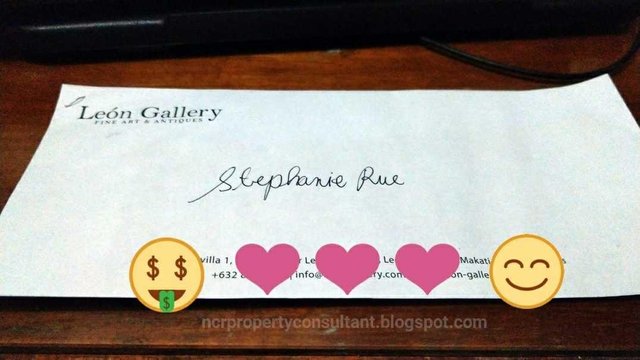 So what do you think of all the art pictured? 😄
Originally posted in Steemit.
Don't have a WordPress blog/site yet? Sign up now.